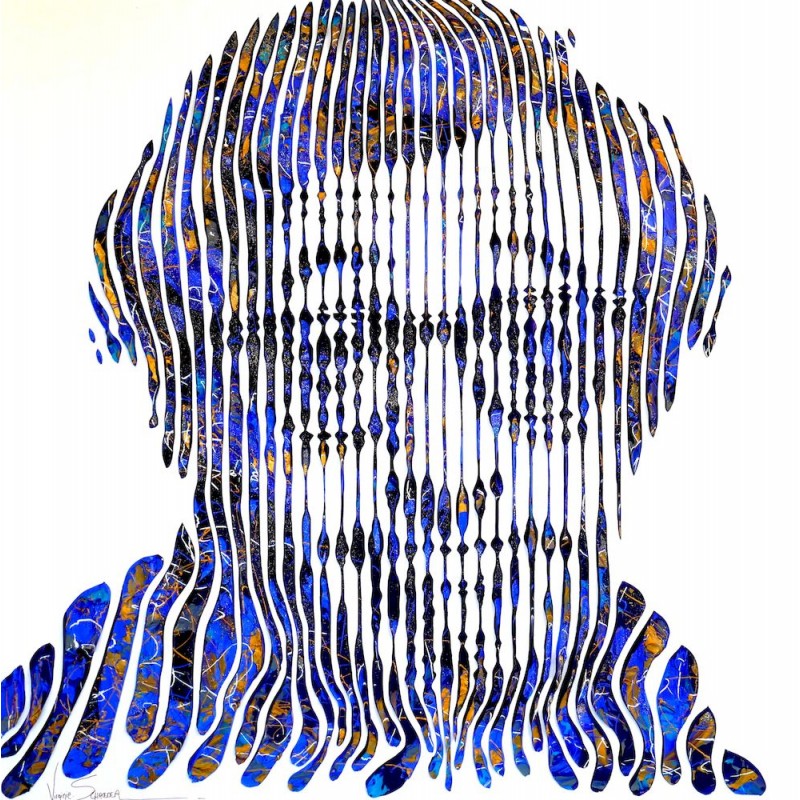 zoom_in
Online only
In the mind of Woody Allen
Reference:

#115

In stock :

1 Item

Description
This work is a sculpture on canvas 3 dimensions painted has the hand in an artisanal way and ready to be hung on your wall. It is a beautiful, unique and original 3 dimensional creation made with love and passion for the material. It is inspired by the kinetic art movement which allows us to experience the work from several angles.
This work of art is a mix of pop art, street art and kinetic art that is very contemporary and pays a nice tribute to our favorite icons.
It will harmonize with all types of decorations and will bring a personal touch of elegance and refinement.
The colours are mixtures in shades of blue, gold and silver applied with a knife, brush and syringe in majestic glazes of delicate paint. These shades are delicately blended to bring out incredible color details. All these mixtures bring us vibrant colors and full of depth. This work was conceived line by line, all painted and sculpted one after the other by hand with patience.
This work is then revealed as a dream that floats before your eyes. The character comes to life before you like a hologram depending on the different angles of view. It is as if the sculpted lines float in space and come to join us.
This work tells us the story of Woody Allen, a director filmmaker who has forever marked the history of cinema. He is one of the men director with a great unique and personal talent.


He is a talented writer with a gift for self-deprecating humor, often referred to as New York Jewish humor.
Woody Allen is human, modest and humble; he is a lover of adventure films, actors and actresses. The little Jewish boy from Brooklyn who failed at school quickly fell in love with words and gags.
He began his career as a comedian, writing jokes for the press, and then as a stand-up comedian.
Woody Allen is certainly the precursor of the art of cinema. Throughout his life, he remained a passionate spectator of cinema. He was a director and an informed spectator, but he knew nothing of technology; self-taught, he wrote his scripts by hand and, although he did not master the technique, he knew the anguish of great directors: knowing where to put his camera.
By looking into the eyes of this sculpture on canvas, one enters the deep universe of this great charismatic character
Technique

acrylic, sculpture on canvas

Chassis

Gallery thickness 38 mm (1 1/2 inch)
In the same category
16 other products seleted for you