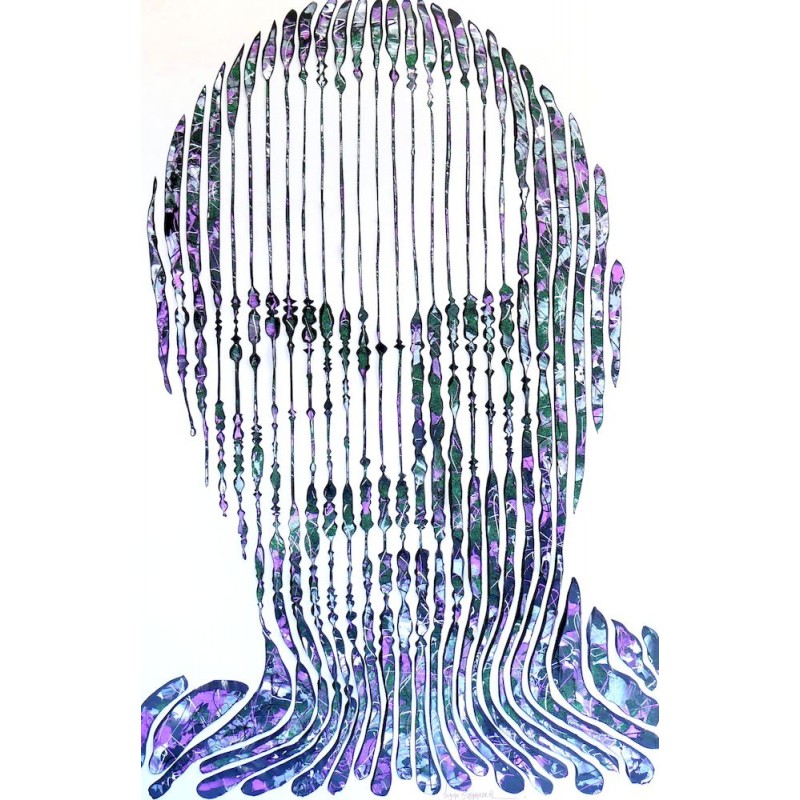 zoom_in
Online only
Steve Jobs the dawn of a new world
Reference:

#116

In stock :

1 Item

Description
This work is a sculpture on canvas 3 dimensions painted has the hand in an artisanal way and ready to be hung on your wall. It is a beautiful, unique and original 3 dimensional creation made with love and passion for the material. It is inspired by the kinetic art movement which allows us to experience the work from several angles.
This work of art is a mix of pop art, street art and kinetic art that is very contemporary and pays a beautiful tribute to our mythical icons.
It will harmonize with all types of decorations and will bring a personal touch of elegance and refinement.
The colours are a mixture of charcoal grey, purple, silver and metallic blue applied with a knife, brush and syringe in majestic glazes of delicate paint. These shades are delicately blended to reveal incredible color details. All these mixtures bring us vibrant colors and full of depth. This work was conceived line by line, all painted and sculpted one after the other by hand with patience.
This work of art reveals itself as a ray of sunshine bringing warmth, love and happiness to your home. Just look at it and you will have a smile on your face and your child's heart will speak to you.
This work tells us the story of Steve Job.
Always and still cited as an example, whether to praise his qualities or to highlight his shortcomings, Steve Jobs, although almost a decade has passed, is still the talk of the town. The founder of Apple, who died in 2011, literally changed the world and upset our relationship with technology .
Steve Jobs is an innovative entrepreneur like few others in a century. He revolutionized the computer world with tools that will leave their mark on future generations. He didn't bother with the unnecessary. He knew how to be inspired by what was around him. He had the ability to determine the potential of innovative projects. He was a man without models, who did not care about rules.
The only law he followed was that of his heart and his intuition. In addition, Steve Jobs had a philosophy of not wanting to be like anyone else and not living the life of someone else. He was known for having new ideas and often going against the grain. His strength lay in his ability not to be satisfied with the present but to anticipate the future. He did not follow trends, he created them! He had the ability to surround himself with talent.
It was his ability to surround himself with skilled and creative people that made Apple so successful, right from the start of the company. He was a fastidious and demanding leader, obsessed with control.
He was going over everyone's head again. Everything had to be perfect. He had a strong capacity for concentration and determination.
Obsessed with creating the perfect product, Steve Jobs showed a lifelong determination to achieve his goals.
He had the courage to assume his choices, his ideas and to believe in them without ever letting himself be discouraged by criticism. He knew how to get up from his failures and fight against the difficulties
Technique

acrylic, sculpture on canvas

Chassis

standard thickness 19 mm (3/4 inch)
In the same category
16 other products seleted for you